Garden Pool(Summer only)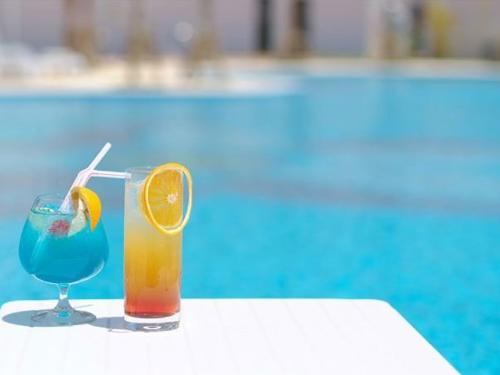 A 70-meter long garden pool in a tropical resort.

Enjoy our garden pool under the perfect blue sky, surrounded by green trees and seasonal flowers. Our pool is open from April to October. It is a perfect place for families with kids, couples and friends to have a good time together while playing in the water.

location 1st Floor (outdoor)
Open season
March . 21 . 2019 ~ October . 31 . 2019
Swimming time
[March 21 to March 31] 13:00-17:00
[April 1 to May 31] 9:00-17:00
[June 1 to July 14] 9:00-18:00
[July 15 to August 31] 8:00-21:00
[September 1 to September 30] 9:00-21:00
[October 1 to October 31] 9:00-18:00
Open Hour at poolside
5:00-24:00

Price
Adults 1,500 yen
Children (4 to 12 years old) 750 yen
Free for children under 3 years old
*People who are not guests must pay at the front desk.
*The pool is free for our guests

Indoor pool
Try our warm pool and Jacuzzi during winter seasons or on bad weather days.

Our spacious indoor pool makes it possible to swim every day of the year regardless of the weather. The glass walls surrounding our indoor pool make you feel like you are still swimming outdoors. Have a great time relaxing in our Jacuzzi next to the indoor pool.

location 1st Floor
Open season All year
Swimming time
[January 1 to March 31] 9:00-21:00
[April 1 to July 14] 14:00-21:00
[July 15 to August 31] 8:00-21:00
[September 1 to October 31] 14:00-21:00
[November 1 to December 31] 9:00-21:00

Price
Adults 1,500 yen Children (4 to 12 years old) 750 yen (April to October)
Adults 1,000 yen Children (4 to 12 years old) 500 yen (November to March)
Free for children under 3 years old
*People who are not guests must pay at the front desk.
*The indoor pool is free for our guests.

Fine print

*Please note that guests with a tattoo may not be permitted to use the hotel pools or other facilities as long as the tattoo might be visible to other guests.